Tracker needed a way to send information directly to Mango5, we stepped in and found a solution.
Codeworkshop.io was contracted by Mango5 and Tracker to reverse engineer and rebuild the Tracker Microsite with the goal of providing a seamless, fully automated process to collect leads generated through social media and other marketing efforts and feed these leads to Mango5 pre-designated consultants. Leads are required to be pushed to a prioritised queue for next available agent. the timeline provided from initial request to rollout was 2 weeks.
Architecture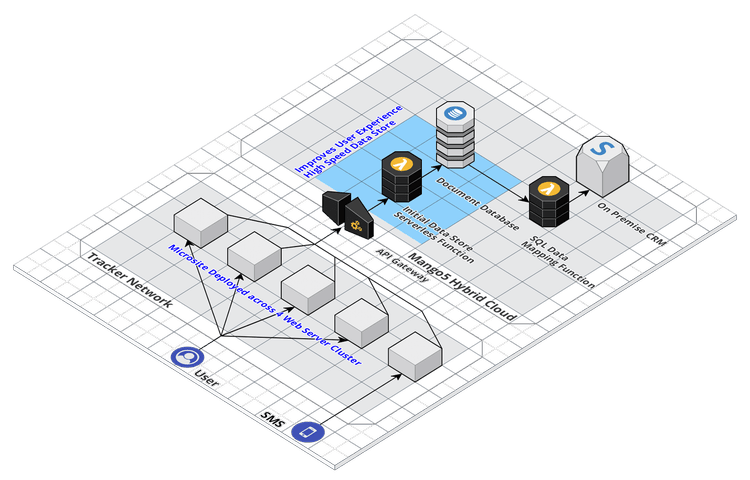 We used Cloudcraft to generate this diagram
The new microsite was developed using the same technologies that are currently at use in the Tracker environment in order to ensure consistency, the site was deployed to Tracker's 4 Web Servers. The new microsite sends captured information to a dedicated secure web service on Mango5's cloud infrastructure hosted on AWS.
We chose server-less technology as it provides flexible and automated scale and removes the burden of managing traditional servers while also allows us quick adaptation to change in business requirements, all this without the exuberant costs typically associated with such infrastructure provisioning. we also included a buffering mechanism, it enables the service to absorb large volumes of requests and prevent any potential bottle-necks in the user-interaction.
The web service is pushing the data to Mango5 CRM where deduping and priority is set to the leads. Additional info provided such as campaign and source of lead (e.g. Facebook, Email), sales consultants can begin engaging with the customer in a meaningful way. Leads are accessible to sales consultants within a maximum of a few seconds.
Additional requirement was introduced (after commencement of the project) to add integration with a bulk SMS service provider, we provided another web-service where leads are managed in a similar fashion as above.
All in all, this project connected Tracker (where the microsite is hosted), external digital marketing company (Dubai), Mango5 Call Centre and an external bulk SMS provider.